Home
»
Insurance
»
Global Insurance Industry
Global Insurance Industry
Global insurance premiums grew by 11% in 2007 (or 3.3% in real terms) to reach $4.1 trillion. The macro-economic environment was characterised by slower economic growth in 2007 and rising inflation. Profitability improved in life insurance and fell slightly in the non-life sector during the year. Life insurance premiums grew by 12.6%, accelerating in the advanced economies with the exception of Japan and Continental Europe. Non-life insurance premiums grew by 7.6% during the year. Figures for premium income are not yet available for 2008, but the insurance industry is likely to see a slowdown in new business and falling investment revenue.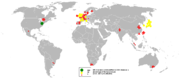 Life insurance premia written in 2005
Advanced economies account for the bulk of global insurance. With premium income of $1,681bn, Europe was the most important region, followed by North America ($1,330bn) and Asia ($814bn). The top four countries accounted for nearly 60% of premiums in 2007. The US and UK alone accounted for 42% of world insurance, much higher than their 7% share of the global population. Emerging markets accounted for over 85% of the world's population but generated only around 10% of premiums.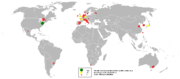 Non-life insurance premia written in 2005
---
Keywords:
global insurance, insurance industry, insurance, insurance companies, types of insurance, business insurance, life insurance, insurance rates, auto business company